As with everything I undertake, I want to give it my own touch, make it different, infuse it with what I have learnt and seen in my life and world.
According to most people's perceptions, eating traditional onion soup is about cheesy toppings and taste of grilled, charred flavour, more than that of the actual onion.
When I experimented with my own onion soup what was foremost in my mind was to bring out the characteristics of the ingredients. I believe this is what all good Chefs Do, or at least should do!
As with all relationships in life, family, friends, lovers – we should always strive to bring out the best in each other. Ingredients are no different.
So I spent a good deal of time thinking it over.
Raw onions have a very strong taste, however, when boiled for a soup, they develop a very attractive sweetness. So in my own version of this classic soup, rather than grill the onions a lot, I boil them to allow people to taste the sweetness they harbour.
For the base of the soup I use a good beef broth. When preparing steaks, in particular rib-eye, it needs to be trimmed, so I usually use these for the base of the soup, it creates a very natural beef flavour.
As far as the cheese is concerned, I don't want it to take over, it's an onion soup, not a cheese fondue. I want the onion's sweetness to come out in harmony with the beef broth, so brie cheese is placed on a slice of toast and served on the side, to compliment the dish, but still allow the onions to be the star of the show.
I have clients who come back just for the onion soup, and this delights me no end. These are people who really understand my concept and I consider it a great honour.
Each onion is respected, as are all the ingredients that go into my special soup, they are there to support one another and to work together, to great an unforgettable taste together.
Much like the relationships we foster in life.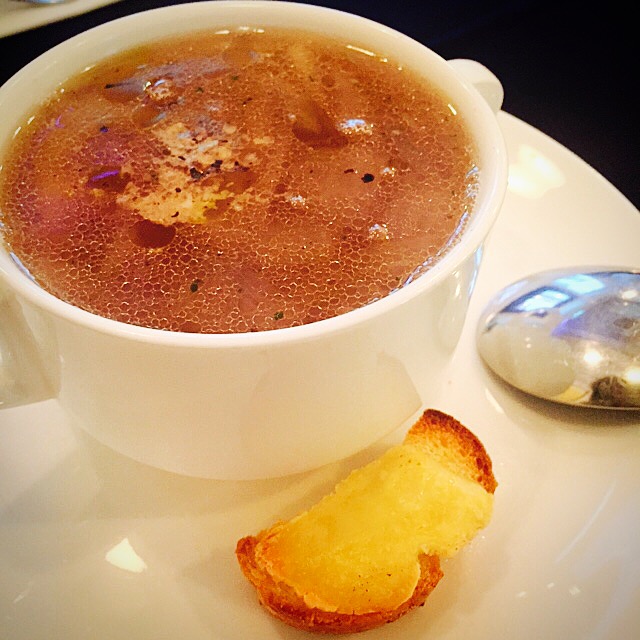 ---
突出與相互融合的致勝秘訣
──繪的特色洋蔥湯
在我所從事的每一份工作裡,我都想融入自己的感覺在其中,並將我在生活中所學到的,和我所理解的世界觀,將其全部融入在這份工作里,以便讓它有所不同。
在大多數人的觀念中,喝洋蔥湯會放很多的芝士,厚厚的鋪滿一層,讓其洋蔥湯有濃濃的芝士味道,這種經典而傳統的烹飪方式,被很多人所喜愛。
而當我在嘗試用自己的方法來製作洋蔥湯時,首先最關鍵的一步,原材料本身的特點就早已在我的腦海中呈現出來。我相信,這是所有出色的廚師都會做到的一點,至少這也是應該做的一個步驟。
所以在這個部分里,我花了很多的時間和心思去想它。
發揮出洋蔥自身的一種特有的異常吸引人的甜蜜滋味。這就是我自己版本裡的經典洋蔥湯,沒有過度去碳烤這些洋蔥而產生的味道。相反的,我將洋蔥進行熬煮,使其本身特有的甜味散發出來,讓人們能夠真正地「暢遊在」洋蔥甜蜜的海洋之中。
這款洋蔥湯的湯底我用了非常鮮美的牛肉湯。在準備牛排時,特別是肋眼牛排,它需要去充分剔骨修邊。所以,通常我會使用這些營養價值同樣很高的骨頭和邊角來熬製牛肉湯,使其散發出非常自然的牛肉鮮味。
就芝士而言,我不想讓它太過主導,因為這是一款洋蔥湯,而並非芝士火鍋。我想要的是將洋蔥特有的甜味發揮出來與鮮美的牛肉湯融合,達成一種和諧的美。所以,我將布里芝士烤制出來后切塊單獨放在一邊,成為這道菜的一個亮點。總之,這樣的做法不會讓洋蔥失去在這道菜里的主角地位。
我有很多客戶成為了餐廳的回頭客,僅僅就是因為這道經典的洋蔥湯。這讓我感到從未有過的快樂,因為這些顧客是真的能夠明白我所想要通過這道菜所表達出的觀念,我認為這是對我最高的讚賞。
每一個洋蔥都是值得去尊敬的,作為每一種放進我這道特別的湯里的原材料。它們即相互支持彼此,同時又共同努力,為的就是產生一種令人難以忘懷的、和諧共存的滋味。
這就好像我們在日常生活中所建立和培養的各種關係一樣。