Live and Love Macau
SPOTLIGHT 19 NOVEMBER, 2016
BY SALLY VICTORIA BENSON
MACAU CHEF SPOTLIGHT: MAGGIE CHIANG
Local creative chef Maggie Chiang thrives on living on a busy schedule. From running her own restaurant and catering business to finding time to practice the piano, guitar and calligraphy, she is one busy woman! Life's too short to do just one thing and Maggie is the epitome of the modern working woman who has found her passion and purpose.
Discovering a direction towards the arts and creativity at a young age, Maggie pursued the path of Culinary arts. Taking pride from her roots in Macau that have molded her way of thinking and training, the Asian and European influences she has acquired throughout the years showed her true talent in creating Maquette not just as a restaurant but as a brand of fine food, culture and skillful creativity. She divulged her beginnings and tales of her trail in this exclusive interview.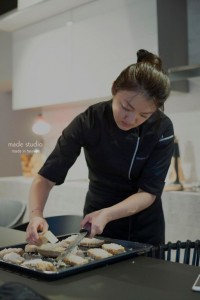 Tell me a bit about your background and connection to Macau?
I was born and raised in Macau and also completed my university studies here. Even though I studied strategic management, I always liked to cook and play in the kitchen since I was a young girl. Honestly speaking, when I was young I never thought I would be a chef. Because back then in Asia it was not really appropriate for a girl to be a chef. So I kept cooking as more of a hobby. But then my hobby started to grow! I went to a lot of cooking workshops in Hong Kong and Macau, any kind of things about cooking I would go and learn. After university, I worked in an office for an advertising agency, but I kept learning new ways to cook and started learning to make pastries as well.
I applied to be a part-time cooking teacher in a studio and so many ideas of how I could teach cooking came to me. I then started up my own cooking school called " Maggie's Kitchen". I started cooking for private dinners but then realized I couldn't cook while working a full-time marketing job, so I left my job and just started focusing solely on cooking. After a few years, I had too many students and too many classes so I felt like it was time to move on. I quit everything and went to Italy to attend the culinary school and had an internship there.
I started up this business and I always wanted combine cooking and art together. Aside from running this restaurant, I started food and art projects in catering. I like to cook Contemporary western cuisine, Some cooking videos and write on my blog and website. I have my pastry shop. Now I'm working more on the food and art side of things.
How did Maquette come about?
When I was in Italy doing my course, the teachers always said that my plate was full of "fantasy and sketch". I wanted to call my restaurant sketch but it didn't sound that great, so I found a French word that means that Marquette and it's also a model for some of the artwork. Marquette is also similar to Maggie and I like the letter M, so I used this word.
What and where is your favorite meal in Macau?
My restaurant of course haha- my fav meal is the clam pasta. Spaghetti and clams with white wine sauce. I love it.
Can you tell us what your plans are now? What direction are you moving in?
It's been four years working in the restaurant business. I started a restaurant four years ago when I return from my Europe trip aiming to bring some European culture to Macau. I was happy to see that people loved what I tried to express through food and saw many regular customers coming back, everyone coming to Maquette became a friend.
Within years I started to create my own dishes, more than European cuisine and as an innovator, I continue to improve myself and plan for the future. In 2015 after I got the "Young Entrepreneur'' from Macau Business Awards, I started to think about how I could inspire more people, youngsters to start to work on their dream, I plan on having seminars in schools. I've been promoting Macau's food and culture through the footage I did with BBC travel and MGTO, these all made me start to think that it's time to step forward, to be Part of Macanese who inspire youngsters and at the same time do something to promote Macau's Food Culture. I believe it's time to do something more than running a restaurant, that's a big step but I believe that's what I would like to do now.
What can Macau expect to see from all these changes?
As I said, as a Chef Artist, born and raised in Macau, I hope I can bring back some of the knowledge or experiences of the Macanese culture and be part of it. I start working with some University students and hope to inspire them to follow their heart and work on their dreams. I am always happy to share my experiences.
What is an accomplishment you most proud of?
I created my own style. That is what I'm really proud of. People see photos online and they go oh "this is something Maggie did". Some chefs also see my work and know that it's my work. That's a great feeling.
What's the first thing you learned how to cook?
"Baking a sponge cake before I was 10 years old. But I never made it properly", she laughs.
What's your favorite kitchen tool?
Spatula… I think.
What do you cook at home that you don't cook in your restaurant?
Chinese food including noodles with soup. I just use olive oil and soybean sauce.
Tell us a little bit more about Macau. What is your ideal weekend in here?
Just stay at home (laughs). I always have so many things to do. I love playing the guitar, the piano and read books. I also practice calligraphy. Actually, I have a lot of things I like to do. If I don't have work, I really rather just to stay at home and do all of them!
What would you say you love about living in Macau?
That it's simple and easy to get around and very accessible.
Where is the best place for local food?
I like traditional Cha Chaan tangs.
And how would you say the city has influenced your cooking?
My background has been of great value to me. When I was in Italy and I took the classes, I think I could easily pick up the style and taste of the cooking easier than other Asians. This was because of the tastes I had gotten used to, from growing up in Macau and tasting European food regularly. It's about the cooking process and that mix of European culture and flavors. So when I started cooking I felt I had an advantage. Also in Macau, it's a mix of cultures, so I'm quite good at Chinese cooking techniques as well…
What Chinese phrase can you not live without in Macau?
"Not moving forward means you are stepping backward".
What is next for you?
I want to participate in activities to inspire more youngsters to follow their dreams, be part of promoting Macau's Food Culture to attract people from all over the world to visit. I want to participate more in the food and art scene. I would love to have an exhibition and make my own cooking book.
http://livelovemacau.com/people/spotlight/macau-chef-spotlight-maggie-chen/
Read our review of Maggie Chiang's French Restaurant Maquette.
Maquette 7E Estrada Lou Lim Ieok, Edificio Wa Tat Kok G/F Room D Taipa, +853 2881 3246